In 1904, Spiros Tzannatos opened his first jewellery workshop in the town of Argostoli, Kefalonia. Previously, his father Evangelos had a metal workshop employing 12 people who had been making silver items for the local churches and with the increased demand for gold jewellery in Greece; he saw a new market to expand his business. Evangelos sent his son Spiridon to Athens to become a goldsmith and on his return began to produce handmade pieces for the local markets needs. Later, Spiros began co-operating with Swiss watchmakers and European workshops to supply his customers with superior and unique watches and jewellery designs. WWII briefly interrupted this period of growth and the shop was forced to close for 2 years. After the war Spiros was to pass the business to his two sons, Evangelos and Stelios who were to continue the family enterprise which had developed a trusted and respected name in the market.


In 1953 a devastating earthquake hit the island. The brothers were running two independent businesses in the town by that time. After the quake, Evangelos was to leave for Athens where he opened a wholesale jewellery business which was very successful until his retirement in the late 80's.

Stelios remained on the island during the difficult years of reconstruction and was able to keep the business open and thriving. After several changes of premises he finally settled in the today's building on Lithostroto and began a period of development.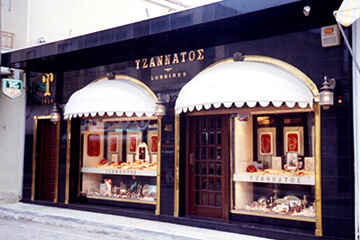 Today Theodoros Tzannatos is at the helm having taken over from his father Stelios in 1984. Theodoros has more than 35 years of experience having begun his career studying Jewellery and Design in the Institute of Art in Florence, Italy. He returned to Kefalonia having gained his Diploma and undertook a renewal process over several years which was completed in 2002 with a refurbishment of the shop premises.
TZANNATOS today, is a quality jeweller offering you many top brand names exclusively on the island, such as Rolex, Tudor, Longines, and Tissot etc. The shop produces a clever match of classic and modern jewellery and specializes in Diamonds, Pearls and semi-precious stones. Theodoros continues to offer a trusted bespoke service from his onsite workshop and has developed a large international customer base. Furthermore, the shop has a wide range of silverware of modern design for personal gifts or traditional pieces made from museum copies, Byzantine Icons and much more. TZANNATOS Jewellers offers a shopping experience based on tradition, excellence and modernity which have been pleasing Kefalonian's and visitors for generations.
In 2022, the next generation of the family joined the business. Eleni and Philippos Tzannatos stepped up to take on new roles and responsibilities, and many new ideas and perspectives are sure to come to the forefront. With fresh eyes and new knowledge, these individuals are poised to lead the business into a new era of innovation and success.

The new skills and knowledge of the new generation together with the knowledge and wisdom of the older generation will create a dynamic and forward-thinking business culture. In particular, the next generation brings a keen interest in technology and social media to the table, essential for conducting business in today's marketplace. Their knowledge will help keep the family jewelry business at the forefront of the industry and thriving for many years to come.